Casino Night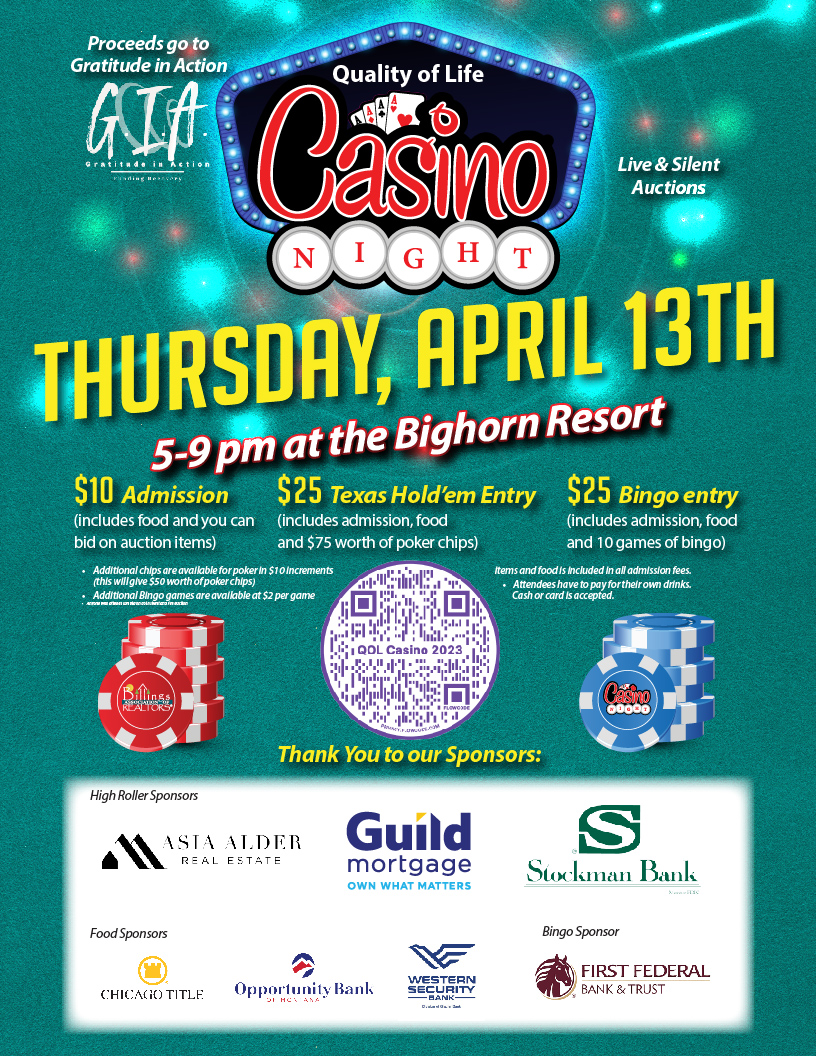 Quality of Life – Billings Association of REALTORS® Casino Night 2023!
Save The Date…
REGISTER HERE FOR CASINO NIGHT 2023:
https://billingsassociationofrealtors.growthzoneapp.com/ap/Events/Register/jpG8m39P?mode=Attendee
---
Our QOL Casino Night Committee has started collecting LIVE and SILENT AUCTION ITEMS!!!
This year will be LIVE & IN PERSON on Thursday April 13th at The Bighorn Resort – Billings from 5-9pm
Pricing as follows:
$10 If you just want to attend the event (includes food and ability to bid on auction items)
$25 For Texas Hold Em' entry (includes entry into event, food and $75 worth of chips)
$25 or Bingo entry (includes entry into event, food and 10 games of bingo)
$10 For extra chips ($50 worth of chips)
$2 For extra bingo tickets
More Details to come!
If you or your company would like to Donate Auction Items, please drop the items off at the BAR Office located at 2021 Overland Ave.
All proceeds will go to GIA – Gratitude in Action!
For more information, please call the Billings Association of REALTORS® at 406.248.7145
---
High Roller Sponsors
Asia Alder Real Estate
Guild Mortgage
Stockman Bank
Food Sponsors
Chicago Title
Opportunity Bank
Western Security Bank
Bingo Sponsor
First Federal Bank and Trust